Dr. Michael Eisenbrock, DDS
Practicing family dentistry for over 40 years!
Since he began practicing dentistry, Dr. Eisenbrock has kept up to date on many continuing educational classes, ensuring that his patients receive the most comprehensive and advanced dental care.
Dr. Eisenbrock graduated from Overbrook High School, which is famous for schooling Wilt Chamberlin and Will Smith. He then attended Widener University where he received a bachelors of science degree. Dr. Eisenbrock attended Temple University School of Dentistry and graduated in 1976.
Born and raised in Philadelphia, the doctor is a frequent visitor to the city's museums and historic places. New to town? Ask the Doc about his favorite spots!
Dr. Eisenbrock has two children who are in the medical field and is very knowledgable about medical offices in the area. Ask the Doc or Marci about primary care physcians or specialists if you are seeking medical care.

Dr. Howard Spruill, DDS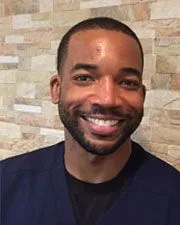 Dr. Howard Russell Spruill graduated with a bachelor's degree from Columbia University and received his dental degree from the University of Pennsylvania, School of Dental Medicine. He completed an extensive residency program at Robert Wood Johnson University Hospital in New Brunswick, NJ. After residency, he worked several years in New Jersey, and he is excited to return to Pennsylvania to work at Neshaminy Valley Dentistry.
Dr. Spruill has immense experience in a range of dental procedures, including but not limited to crown and bridge, veneers, implants, root canals, and extractions. He also prides himself on his ability to engage patients and provide them with a pleasurable dental and social experience. Dr. Spruill is hard-working, friendly, and empathetic, and he strives to provide patients with an exceptional standard of care.
In his free time he enjoys cooking, spending time with family, and exercising.